Event
The Freakout Records 5 Year Anniversary Party feat.
with
Death Valley Girls
,
Acid Tongue
,
Smokey Brights
,
Shaina Shepherd
,
Beverly Crusher
,
Black Ends
,
DJ Set by The Grizzled Mighty
Sat
September 4, 2021
6:00 pm
PDT
Ages 21 and Up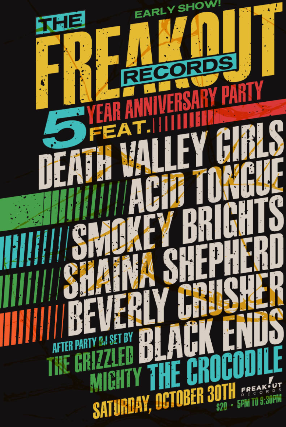 $20.00
Smokey Brights
mokey Brights is a story of love and pizza. Husband and wife duo Ryan Devlin and Kim West first met while slinging pies at a south Seattle restaurant in their early 20s. Devlin, a fixture in the Northwest's thriving DIY rock scene, and West, an aspiring law student, started writing and recording songs in Devlin's bedroom during a cash-strapped Christmas as their friendship blossomed into romance. Pulling from their mutual love of 70s rock, vintage synthesizers, thrift shop treasures, and early MTV, the pair's bond permeated their pop songcraft. The duo, joined by drummer Nick Krivchenia and bassist Luke Logan, create a stoney blend of Northwest rock & roll and razor-sharp disco grooves that Impose Magazine has called "a modern bit of AM radio gold."

The group released their first LP, Taste For Blood, in 2014 to regional acclaim and heavy airplay and support from iconic radio station KEXP. Catching the attention of upstart label Freakout Records, the band released their sophomore LP, Hot Candy, in 2016. 2018 saw the band releasing two EP's, "Come to Terms" and "Different Windows," with supporting appearances at clubs and festivals across the United States as well as the group's first headlining UK tour. 2019 brought extensive touring in support of these EPs, with the band's first headlining European tour, official plays at SXSW, Treefort Music Festival, and additional tours and festivals across the US. Smokey Brights will release a new LP in 2020.
DJ Set by The Grizzled Mighty